Aquatic Gardeners Association 2015 Convention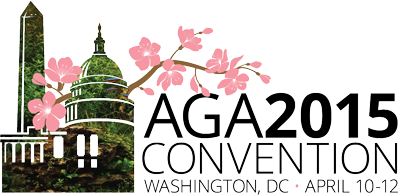 The 2015 AGA Convention, hosted by the Greater Washington Aquatic Plant Association, was held in Reston, VA April 10 – 12, 2015. Thanks to all who attended! Activities included:
Six amazing speakers, including Keynote George Farmer from the UK
Field trip to the National Zoo, quick tour of DC, and US Botanical Gardens
Fluval Nano Aquascaping Workshop
Senske vs. Farmer Live Aquascaping Challenge
All-Day Aquatic Plant Auction and tag sale (fixed-price format)
George Farmer

Aquascaping Principles (Keynote Presentation)

Phil Edwards

Substrate Ecology

Rachel O'Leary

Interesting and Unusual Inhabitants for the Planted Aquarium

Tom Barr

The Many Ways to Grow Aquarium Weeds + Bonus Banquet Talk!

Sean Murphy

Basic Plant Botany and Taxonomy

Nick Klase

Lighting in the Planted Aquarium and LED Use
For more information, read their biographies here.