The Aquatic Gardeners Association, Inc. is an international nonprofit organization of aquatic plant enthusiasts, which appeals to both beginners and experienced hobbyists alike. The AGA publishes a (paper) quarterly journal called The Aquatic Gardener (or TAG), the only English language journal devoted to aquarium plants and planted aquaria. AGA members receive a FREE subscription to TAG and all special publications. Members also can purchase back issues, DVDs, and t-shirts. We also hold a bi-annual convention and an online aquascaping contest.
Latest News
Posted on Sun, 05 Jun 2016 by Cheryl
2016 AGA International Aquascaping Contest

It is our pleasure to announce the opening of this year's Aquatic Gardeners Association International Aquascaping Contest. So, get your tanks pruned, get the cameras ready, register for the contest! You have until September 18th to complete, and the winners will be announced November 12th.
We eagerly look forward to seeing your entries!
Posted on Sun, 01 May 2016 by Cheryl
Members-Only Portal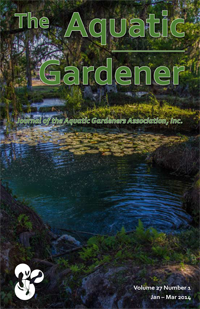 For you paid-up AGA members, all but the most recent issue of The Aquatic Gardener can now be read online! Go to the AGA web site, and under the Membership tab, find the "Members-only Portal". You will have to create a password the first time you log in. Instructions are on the site.
Look for more in the coming months!
I'd like to extend a big THANK YOU to Erik Olson and Kris Weinhold for their long-term and ongoing effort on this project. Can you believe that these folks are volunteers? Be sure to thank them personally if you get the chance.
If you are not a paid-up member and would like access to the TAG Archives and future exclusive features, join us!
~cheryl
Posted on Mon, 04 Apr 2016 by Cheryl
The Aquatic Gardener 29-1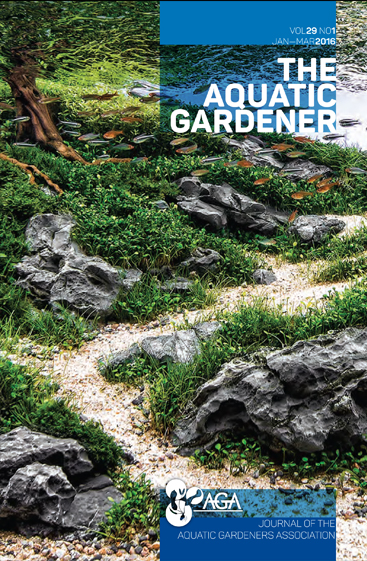 ON THE COVER "Deep Nature" by Paulo Vitor Pacheco, First Place Aquatic Garden 200-320L and Best of Show, 2015 AGA International Aquascaping Contest
The Aquatic Gardener Vol. 29 No. 1 has been published! This issue includes:
~ From the President by Cheryl Rogers ~ Species Spotlight by Rachel O'Leary ~ Scientifically Speaking by Cavan Allen ~ A Little Planning Can Go A Long Way by Tony Gomez ~ Nature Aquarium as an Environment For Fish to Live In by Aqua Design Amano ~ Meet The AGA–Cheryl Rogers ~ 2015 AGA International Aquascaping Contest Winners ~ A Waterless Aquarium by Eduardo Amador Caballero ~ Aquarium Hobbyists of Hyderabad Workshop by Somraj Roychoudhury
We are aware that some copies of this issue were messed up! This error occurred during the binding process. Please contact us at membership@aquatic-gardeners.org if you need another copy.
Membership in the Aquatic Gardeners Association includes this magazine free four times per year. To obtain the journal, please visit our membership page.
Posted on Wed, 23 Mar 2016 by Cheryl
March Clippings
The March edition of Clippings has been emailed to all AGA members. Speakers, events, auctions!! If you did not get Clippings, please email or message us.
Posted on Thu, 25 Feb 2016 by Cheryl
February Clippings
The February edition of Clippings has been emailed to all members. International events, videos, workshops, you name it! If you did not get Clippings, please email or message us.