The Aquatic Gardeners Association, Inc. is an international nonprofit organization of aquatic plant enthusiasts, which appeals to both beginners and experienced hobbyists alike. The AGA publishes a (paper) quarterly journal called The Aquatic Gardener (or TAG), the only English language journal devoted to aquarium plants and planted aquaria. AGA members receive a FREE subscription to TAG and all special publications. Members also can purchase back issues, DVDs, and t-shirts. We also hold a bi-annual convention and an online aquascaping contest.
Latest News
Posted on Sat, 12 Nov 2016 by Erik
Aquascaping Contest Results are Up

The results of the 2016 AGA International Aquascaping Contest are
now available for viewing!
. That is all.
Posted on Sun, 18 Sep 2016 by Cheryl
2016 Aquatic Experience
The AGA is sanctioning a couple of aquascaping contests at the the Aquatic Experience in Chicago this November 4-6, and we need entrants. You don't have to be an aquascaping expert, everyone from beginners to advanced are entered. It doesn't matter if you win, just come play!
The passers-by who will be watching the event know little or nothing about aquatic plants; anyone with a wet plant in their hand is an expert. This is a chance to spread the word about our cool hobby.
We need YOU to attend. There's not much time left! Go to the AGA web site at www.aquatic-gardeners.org/aquatic_experience.html to learn about the Aquatic Experience LIVE! Aquascaping Contests sanctioned and presented by the Aquatic Gardeners Association.
Even if you don't win, who cares, YOU GET TO KEEP THE TANK.
Posted on Mon, 25 Jul 2016 (updated Sun, 18 Sep) by Cheryl
Tropical Fish Hobbyist
Posted on Thu, 14 Jul 2016 (updated Sun, 18 Sep) by Cheryl
The Aquatic Gardener 29-2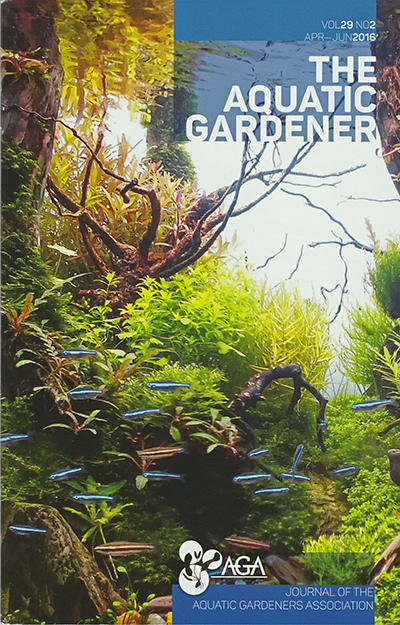 The Aquatic Gardener Vol. 29 No. 2 has been published! This issue includes:
~ From the President by Cheryl Rogers
~ Species Spotlight by Rachel O'Leary
~ Scientifically Speaking by Cavan Allen
~ Aquaminiatura: Pico Tank Contest by Diego Sandoval
~ Great Aquashops Around the World by Luca Galarraga
~ Ideal Environment Produced by Aquatic Plants for Fish by Aqua Design Amano
~ Meet the AGA--Karen Randall
~ Growing Under Water - How Plants Cope With Low CO2by Ole Pedersen et al
~ Constructing Paludariums by Chris Teem
~Book Review: Origin of Creation by Karen Randall
ON THE COVER: Photo by Gregory Thom e Silva, Second Place Aquatic Garden 28-60L, 2015 AGA International Aquascaping Contest
Membership in the Aquatic Gardeners Association includes this magazine free four times per year. To obtain the journal, please visit our membership page.
Posted on Sun, 05 Jun 2016 by Cheryl
2016 AGA International Aquascaping Contest

It is our pleasure to announce the opening of this year's Aquatic Gardeners Association International Aquascaping Contest. So, get your tanks pruned, get the cameras ready, register for the contest! You have until September 18th to complete, and the winners will be announced November 12th.
We eagerly look forward to seeing your entries!