The Aquatic Gardeners Association, Inc. is an international nonprofit organization of aquatic plant enthusiasts, which appeals to both beginners and experienced hobbyists alike. The AGA publishes a (paper) quarterly journal called The Aquatic Gardener (or TAG), the only English language journal devoted to aquarium plants and planted aquaria. AGA members receive a FREE subscription to TAG and all special publications. Members also can purchase back issues, DVDs, and t-shirts. We also hold a bi-annual convention and an online aquascaping contest.
Latest News
Posted on Sat, 07 Nov 2015 by Erik
2015 Aquascaping Contest Reults now Online
At long last, the results of the 2015 AGA Aquascaping contest are now available online! Enjoy!
Posted on Sat, 24 Oct 2015 by Cheryl
October Clippings
The October edition of our newsletter, "Clippings" was e-mailed to all members. If you did not get your copy, please let us know. ~ cheryl
Posted on Sun, 27 Sep 2015 by Cheryl
The Aquatic Gardener 28-3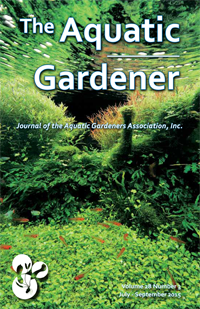 Cover photo by Takashi Amano
The Aquatic Gardener Vol. 28 No. 3 has (finally!) been published! This issue includes:
~ New Board Members! Jen Williams and Kris Weinhold
~ In Memoriam: Takashi Amano by Bailin Shaw
~ Piotr Mierzejewski by Luca Galarraga
~ 2015 AGA Convention Wrap-up by Karen Randall
~ The Water Cradle of the Low Mixteca Region by Bernardo Salas Perez
~ Horticultural Award Program Design by Dick vanHyfte
~ Effective Uses of Aquatic Plants Seen in the NA Gallery by Takashi Amano
Membership in the Aquatic Gardeners Association includes this magazine free four times per year. To obtain the journal, please visit our membership page.
Posted on Wed, 26 Aug 2015 by Cheryl
August Clippings
Ooops! I forgot to tell you that the August edition of our newsletter, "Clippings" was e-mailed to all members. If you did not get your copy, please let us know. ~ cheryl
Posted on Mon, 15 Jun 2015 by Erik
2015 Convention Disks are Shipping!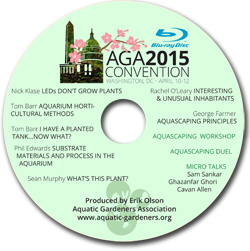 It took forever, but at long-last, the video of the 2015 convention is now shipping. All the main talks were painstakingly edited from three cameras, (mostly) crystal-clear audio from the sound board, and the original Powerpoint slides photos and video clips digitally inserted. Some images have been reformatted for 16x9 presentation; in other places, there are zoom-ins or highlighting to help illustrate the presentation.
There are eight main talks, including both halves of Nick Klase on LED lighting, keynote speaker George Farmer, dirt expert Phil Edwards, Cavan interpreter Sean Murphy, Tom Barr, and Rachel O'Leary.
In addition, we've also got a highlight reel of the aquascaping workshop, and a 40-minute edit of the Iron Aquascaper challenge. Finally, three of the micro-talks are preserved (audio and slides only).
If you missed part (or all) of the convention, do yourself a favor and buy this disk. If you've got Blu-Ray, buy it in high-def for the same price!.
Posted on Mon, 20 Apr 2015 by Erik
Convention Disks available for Pre-Order + T-Shirts too!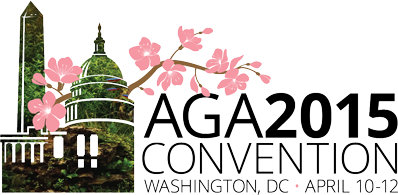 The 2015 Convention is done, but the presentations live on, in our newest DVD or Blu-Ray. We will feature all of the main talks in multi-camera edit and split-screen with the slides digitally inserted as always, and crystal-clear sound from the mixing board. The mini talks will also be there (slides and audio). The aquascaping duel will be edited down to a watchable 30-45 minutes, and the nano workshop into something under ten. Yes, both parts of Nick's fascinating LED presentation will be included. Pre-order your copy at our disk sales page. (Remember: available to AGA members only.)
We also have convention T-shirts for sale if you missed picking one up, or missed the convention and still want one. Go to the AGA T-shirt page to get yours today.