The Aquatic Gardener: Journal of the Aquatic Gardeners Association
Members of the Aquatic Gardeners Association receive this magazine free four times per year. This is an actual paper magazine mailed to your postal address. Our 44-page publication contains a mix of articles from all over the globe, appealing to different levels of expertise, with beautiful full-color photos and illustrations.
To obtain the journal, please visit our membership page. Back issues are also available for sale.
To see a sample issue, click here. [2.9 MB pdf]
Master TAG Index: Browse Subjects, Browse Authors, or Browse Covers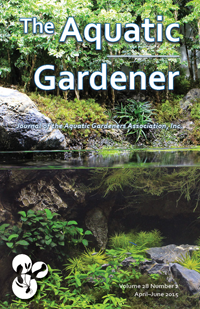 Current Issue: Volume 28 Number 2 (April - June 2015)
This issue was mailed to all members on 27 April 2015.
Hemianthus glomeratus: A Case of Mistaken Identity by Cavan Allen
HAP: What Is It & Why Have One? by Dick van Hyfte
DIY Wabi-Kusa by Bob Dempsey
The Wabi-Sabi Atmosphere Created by Epiphytic Aquatic Plants by Takashi Amano
Thunder Mountain Valley by Fernando Boturao Francischelli
Cryptocoryne nurii var. raubensis by Niels Jacobsen (DK), Jan D. Bastmeijer (NL), Herman Bernard Ganapathy (MY), Khairul Nasiruddin Abu Mangsor (MY), Mashor Mansor (MY), Ahmad Sofiman Othman (MY), Siti Nurfazilah Abdul Rahman (MY), Rosazlina Rusly (MY), and Joshua Siow (MY)


About The Aquatic Gardener
Dimensions: 5.5in. W x 8.5in. H
No of Pages: 44
Full-color: yes
Frequency: quarterly
[advertising rates]
The Aquatic Gardener ISSN 1073-6999
Original articles that appear in The Aquatic Gardener (TAG) may be reproduced in print (paper) media by non-commercial organizations (unless specifically stated otherwise) provided that proper credit is given to the author and to The Aquatic Gardener, and that at least one copy of the publication containing the reprinted material is sent to TAG's editor at the time of publication. Credit to TAG as the original source must appear at the end of the article, as follows:
Reprinted with permission from The Aquatic Gardener, the Journal of the Aquatic Gardeners Association. Any person interested in the Aquatic Gardeners Association is invited to apply to AGA Membership, PO Box 51536, Denton TX 76206 USA
Any other republication or duplication of the original articles or graphics must first receive permission from TAG's editor or the article author.
Contributions
Artwork, photographs and articles are welcome from any source and may be submitted to the editor for consideration. We request first publication rights for articles accepted. Please contact Cheryl Rogers at editor @ aquatic-gardeners.org for submission guidelines.