Aquatic Gardeners Association 2015 Convention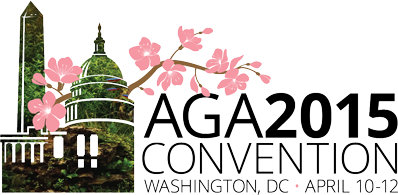 The 2015 AGA Convention, hosted by the Greater Washington Aquatic Plant Association, is being held at the Sheraton Reston Hotel in Reston, VA April 10 – 12, 2015! Activities include:
Six amazing speakers, including Keynote George Farmer from the UK
Field trip to the National Zoo, quick tour of DC, and US Botanical Gardens
Nano Aquascaping Workshop (Sold Out)
Senske vs. Farmer Live Aquascaping Challenge
George Farmer

Aquascaping Principles (Keynote Presentation)

Phil Edwards

Substrate Ecology

Rachel O'Leary

Interesting and Unusual Inhabitants for the Planted Aquarium

Tom Barr

The Many Ways to Grow Aquarium Weeds + Bonus Banquet Talk!

Sean Murphy

Basic Plant Botany and Taxonomy

Nick Klase

Lighting in the Planted Aquarium and LED Use
For more information, read their biographies here.
Nano Workshop (SOLD OUT!)
The Fluval Nano Aquascaping Workshop is back by popular demand! Rocks, wood and plants will be provided and you get to keep the tank! If you are interested in getting on the wait list for the Nano workshop, please indicate so on the questionaire after you register.
Field Trip
Our exciting field trip will begin at the Amazonia Exhibit of the National Zoo where the live kapok, avocado and cocoa trees grow and support the living forest above, and below into the 27,000 gallon aquarium with a full breadth of life from the Amazon River Basin. There will also be free time to visit and eat lunch on your own before meeting back at the bus for a highlight tour of some of downtown Washington DCs most famous landmarks and monuments in all their glory as the Japanese Cherry Blossoms will be in full form at the tail end of their annual celebratory festival. The afternoon will wind up at the U.S. Botanic Garden where we'll start with a quick talk from one of the main curators for the Gardens at the famous amphitheater, then groups can break off for walking tours of the expansive gardens. From rare and exotic plants to displays of desert and rainforest jungle, the gardens and Conservatory have something for everyone. Their annual Orchids: Interlocking Science and Beauty exhibit will be going on while we are visiting, displaying hundreds of orchids and new technology/inventions related to their care and protection.
Banquet
Tom Barr: It's Planted, Now What?
Aquascaping Duel Winner Announced
Nano Workshop Popular Choice Announced
AGA Aquascaping Contest: What's Up with that new Dutch Category?
AGA Convention Wrap-Up
Dinner options include:
Pan seared salmon with a terikayi and ginger glaze, wasabi mashed potatoes, and vegetables
Roasted chicken with a red orange and ginger glaze, horseradish mashed potatoes, and roasted vegetables
Mediterranean Purse (cous cous and roasted vegetables wrapped in pastry dough with a fire roasted red pepper sauce) and roasted vegetables
Registration and Hotel
Basic registration ($65 for AGA or GWAPA members, $85 for non-members) includes admission for one person to all talks (except the banquet), admission as a spectator to the nano workshop and Senske-Farmer duel, and seller fee for Sunday auction. Spouses wishing to attend these events will need to have a separate registration (only one membership per household required). Spouses or guests who just want to attend the banquet or field trip do not need to register, only pay for the banquet or field trip.
Registration is open online in the sidebar. You can also book your hotel room here online, or call Central Reservations at 1-800-561-9186 and ask for Aquatic Gardeners Association 2015 room block.
The hotel offers a complimentary 24-hour shuttle to and from Dulles Airport, running on 30-minute cycles throughout the day. If you will be arriving after 11PM, please call the hotel and arrange pickup so you don't have to wait. 703-620-9000.
Finally...
WHY did we not have the convention in the fall of 2014 as usual? Well, those dates were getting kind of crowded, with the catfish convention, the Nature Aquarium Party, and now the Aquatic Experience in late October and early November. So we decided it would be more fun to participate in the Aquatic Experience in Chicago Nov 7-9, and host our regular awesome convention in the spring. A win-win!
Interested in sponsoring the convention, or participating in the vendor room? Click here.