The Aquatic Gardeners Association, Inc. is an international nonprofit organization of aquatic plant enthusiasts, which appeals to both beginners and experienced hobbyists alike. The AGA publishes a (paper) quarterly journal called The Aquatic Gardener (or TAG), the only English language journal devoted to aquarium plants and planted aquaria. AGA members receive a FREE subscription to TAG and all special publications. Members also can purchase back issues, DVDs, and t-shirts. We also hold a bi-annual convention and an online aquascaping contest.
Latest News
Posted on Mon, 15 Nov 2021 by Erik
Aquascaping Contest Winners Livestream November 21st
The AGA will proudly present the winners of our 2021 International Aquascaping Contest in a livestream with this year's judges. Tune in to aquatic-gardeners.org/stream 11 AM PST - 2 PM EST - 19:00 GMT to watch along, and view all the results afterwards at showcase.aquatic-gardeners.org.
Posted on Tue, 13 Jul 2021 (updated Tue, 27 Jul) by Cheryl
The Aquatic Gardener 34-2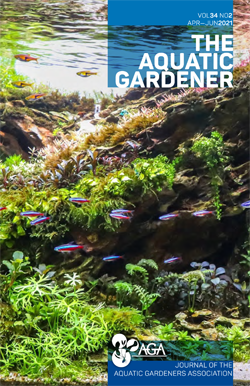 The Aquatic Gardener Vol. 34 No. 2 has been published! This issue includes:
~ From the President by Cheryl Rogers
~ FAN Pick by Art Pennom
~ Finding Flora by Chantz Cramer
~ Judge's Corner by Juan Puchades
~ Aquascaping 101: Perspective Part 2 — Using Contrast by Kevin Kelly
~ An Aquascape That Appears More Natural as it Matures by Aqua Design Amano
~ The Importance of Maintaining A Planted Aquarium: How To Do It Properly by A. Baseem
~ 6 Things Not To Throw Away If You Have a Planted Aquarium by Mridul Singh

ON THE COVER: "Power and Grandeur" by Lio Kuo Hung, Top 10 2020 AGA International Aquascaping Contest 220-320L category.
Membership in the Aquatic Gardeners Association includes this magazine free four times per year, as well as other benefits. To obtain the journal, please visit our membership page.