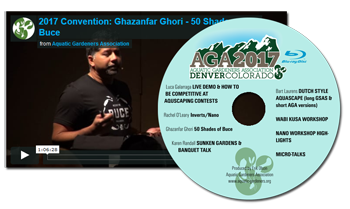 Missed our excellent convention in Denver back in April? Or maybe just want to take another look at a talk in more detail? Video of the whole convention is now available!
Everyone has been bugging us to offer video online, so so new for 2017, we are offering unlimited online high-def streaming for only $20. If you prefer, you can add a traditional DVD set or Blu-Ray for a few bucks more.
Included are all five main speakers (Luca, Karen, Bart, Ghazanfar and Rachel), Luca's big demo (edited down to a very watchable one hour packed with nonstop tips on how to improve your own aquascaping), the Wabi-Kusa demo and workshop, highlights of the nano workshop, and seven micro-presentations.
We also included Bart Laurens' full two-hour presentation in Seattle, in addition to his truncated convention version. All in all, almost nine hours of stuff to watch!
Get your copy (or access) now at the AGA media store.