The Aquatic Gardeners Association, Inc. is an international nonprofit organization of aquatic plant enthusiasts, which appeals to both beginners and experienced hobbyists alike. The AGA publishes a (paper) quarterly journal called The Aquatic Gardener (or TAG), the only English language journal devoted to aquarium plants and planted aquaria. AGA members receive a FREE subscription to TAG and all special publications. Members also can purchase back issues, DVDs, and t-shirts. We also hold a bi-annual convention and an online aquascaping contest.
Latest News
Posted on Thu, 28 Jun 2018 by Cheryl
The Aquatic Gardener 31-2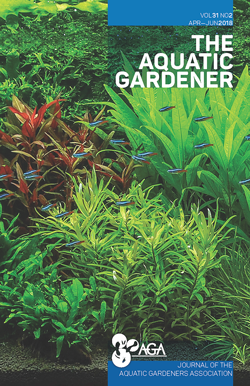 The Aquatic Gardener Vol. 31 No. 2 has been published! This issue includes:
~ From the President by Cheryl Rogers
~ On PAR by Cara Wade
~ Great Aquashops Around the World by Luca Galarraga
~ Ephemeral Wetlands--A Race Against Time for Aquatic Plants by Ole Pedersen
~ Two Compositions With Red Stem Plants by Aqua Design Amano
~ Immersing Myself in the 2018 Global Pet Expo by Walter Crews
~ Meet the AGA—Jen Williams
~ Competitive Aquascaping by Jeff Miotke
~ Aquatic Plants Without Water--It's Easy and Useful! by Karen Randall

ON THE COVER: "Walking in the Park" by Chen Meng Chun. 2017 AGA International Aquascaping Contest Dutch Aquascape Category 2nd place winner.
Membership in the Aquatic Gardeners Association includes this magazine free four times per year. To obtain the journal, please visit our membership page.
Posted on Sun, 03 Jun 2018 (updated Mon, 04 Jun) by Erik
Enter Now - AGA 2018 Aquascaping Contest!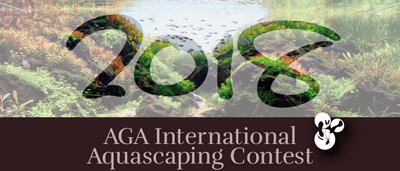 Our nineteenth Aquascaping Contest is now open for entries until September 15th. Same as last year, you no longer have to fill out any actual paperwork -- it is all online, and still free to enter!