Latest News
Posted on Thu, 01 Dec 2022 (updated Fri, 16 Dec) by Cheryl
The Aquatic Gardener 35-3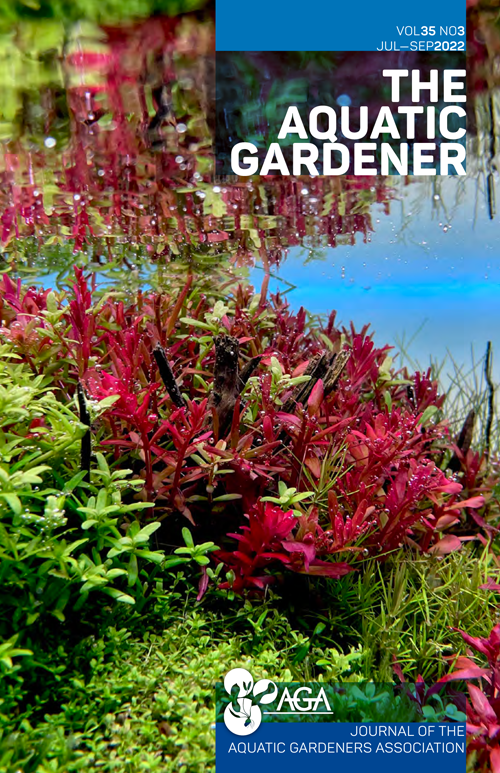 The Aquatic Gardener Vol. 35 No. 3 has been published! This issue includes:
~ From the President by Cheryl Rogers
~ Judge's Corner by Marvin Lo
~ Outdoor Tubbing by Victor Huang
~ Why Green Leaves Sometimes Turn Reddish-An Eyewitness Report from Interzoo 2022 by Ole Pedersen, Anja Heidi Floytrup, and Troels Andersen
~ 2022 IAPLC Top Ten Aquascapes by Aqua Design Amano
~ A Driftwood and Stem Plant Layout That Appears More Natural Under Long-Term Maintenance by Aqua Design Amano
~ Vallisneria Austeralis S.W.L Jacobs & Les by Alex Martin
~ Dead Fish Blues by Steve Stucko

ON THE COVER: 2021 AGAIAC #342: 144l Aquatic Garden "Passion, perseverance, determination" by Colombo Angelo, Italy
Membership in the Aquatic Gardeners Association includes this magazine free four times per year, as well as other benefits. To obtain the journal, please visit our membership page.
Posted on Mon, 17 Oct 2022 by Erik
2022 Convention Video Now Available!
The edited video of the 2022 AGA Convention is now available for streaming to all AGA members. Included are all eight main presentations (including all three live demos, the heady Vallisneria talk, the helpful photography lecture, the history of Brazilian aquascaping, and both rainbowfish talks). And it's available for the low price of just $15. We also made a few physical DVDs and Blu-Ray disks for sale for $36, but once they're gone, we're not making more.