The Aquatic Gardeners Association, Inc. is an international nonprofit organization of aquatic plant enthusiasts, which appeals to both beginners and experienced hobbyists alike. The AGA publishes a (paper) quarterly journal called The Aquatic Gardener (or TAG), the only English language journal devoted to aquarium plants and planted aquaria. AGA members receive a FREE subscription to TAG and all special publications. Members also can purchase back issues, DVDs, and t-shirts. We also hold a bi-annual convention and an online aquascaping contest.
Latest News
Posted on Sun, 22 Mar 2020 by Cheryl
COVID-19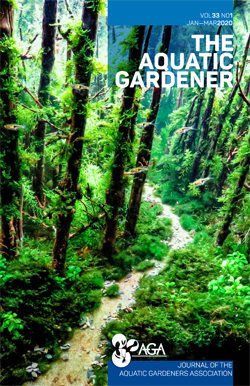 COVID-19 Update: As the AGA is mostly online anyway, we are conducting "business as usual", with one major exception: we are delaying shipments of purchased items (The Aquatic Gardener single issues, combos, and donations;tshirts; DVDs) so that our volunteers do not have to go to the post office and risk themselves or their community. You can still join or renew, and you'll get your items eventually, when the crisis is over. Thanks for understanding, and stay well and safe. Meanwhile, here's a sneak preview of the cover of TAG 33-1, currently in production.
Posted on Wed, 01 Jan 2020 (updated Sat, 21 Mar) by Cheryl
The Aquatic Gardener 32-4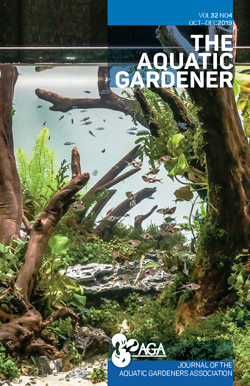 The Aquatic Gardener Vol. 32 No. 4 has been published! This issue includes:
~ From the President by Cheryl Rogers
~ Great Aquashops: AQUA LAB by Luca Galarraga
~ 2019 IAPLC Top Eleven Aquascapes
~ Tips and Tricks for Dutch Style Aquascaping: Foreground and Substrate by Vin Kutty
~ The Aquatic Experience by Chantz Cramer
~ Why We Trim: A Fundamental of Planted Tank Care by Kevin Grant of Canada
ON THE COVER: The Aquatic Experience Aquascaping LIVE! Contest 1st place entry (Large Tank) by Jeff Miotke, Jerry Jobe, Richard Valerio, and Chuck Branch
Membership in the Aquatic Gardeners Association includes this magazine free four times per year. To obtain the journal, please visit our membership page.
Posted on Fri, 01 Nov 2019 by Erik
2019 Convention Disks Available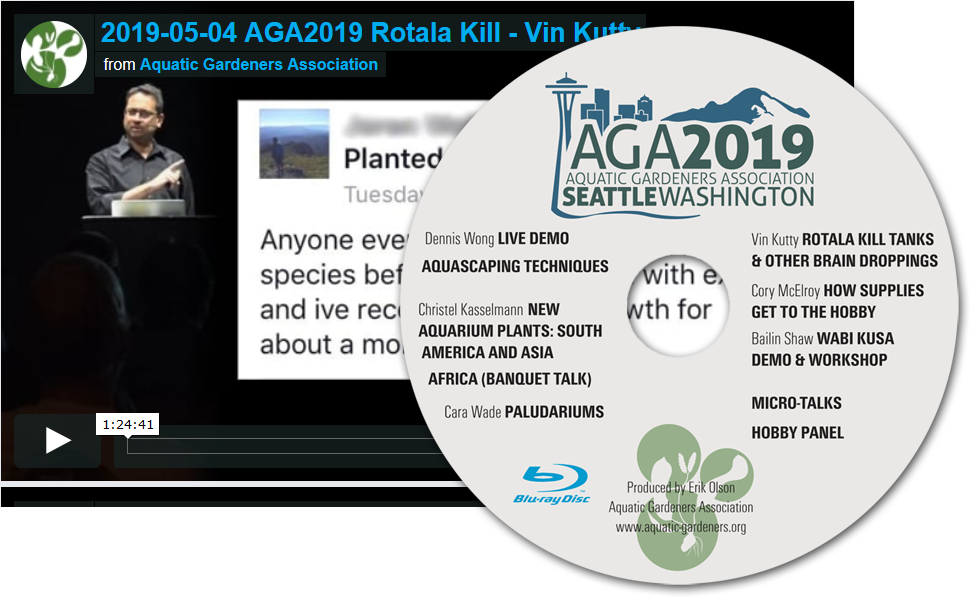 We are pleased to announce that physical media of our recent 2019 convention are now available for purchase by AGA members at aquatic-gardeners.org. Included on the single Blu-Ray (or two DVDs) are all six full-length talks, Dennis Wong's four-hour demo (edited down to a single hour with continuous Q&A throughout), the hobby discussion panel, the Wabi Kusa demo and workshop highlights, and all the vendor 'micro' talks. That's almost ten hours of material!
You can still purchase the streaming version for only $15. Streaming is also included free with the disk purchase.