The Aquatic Gardeners Association, Inc. is an international nonprofit organization of aquatic plant enthusiasts, which appeals to both beginners and experienced hobbyists alike. The AGA publishes a (paper) quarterly journal called The Aquatic Gardener (or TAG), the only English language journal devoted to aquarium plants and planted aquaria. AGA members receive a FREE subscription to TAG and all special publications. Members also can purchase back issues, DVDs, and t-shirts. We also hold a bi-annual convention and an online aquascaping contest.
Latest News
Posted on Tue, 10 Oct 2017 by Cheryl
The Aquatic Gardener 30-3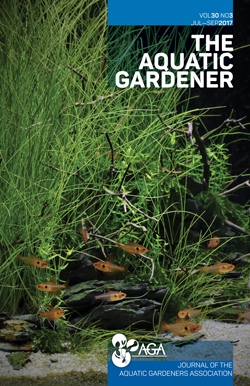 The Aquatic Gardener Vol. 30 No. 3 has been published! This issue includes:
~ From the President by Cheryl Rogers
~ Scientifically Speaking by Cavan Allen
~ Great Aquashops Around the World by Luca Galarraga
~ 2017 Fresh Fest at Reef-a-Palooza by Mike Bernard
~ Collecting in North Carolina by Tim Gross
~ Revisiting Do-It-Yourself CO2 by Vaughn Hopkins
~ Sozo Haishoku of a Layout with Unzan Stones by Aqua Design Amano
~ Meet the AGA—Paula Hofmann
~ Growing Syngonanthus by Dennis Singh

ON THE COVER: Aquascape and Photo by Tim Gross.
Membership in the Aquatic Gardeners Association includes this magazine free four times per year. To obtain the journal, please visit our membership page.
Posted on Sun, 17 Sep 2017 (updated Tue, 10 Oct) by Cheryl
2017 Aquascaping Contest Closed for Entries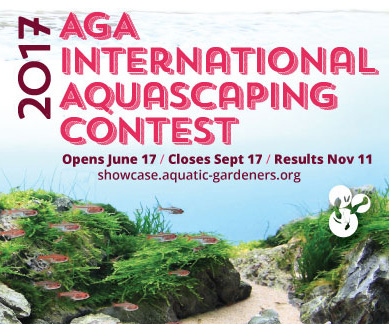 The 2017 AGA Aquascaping Contest is now closed for entries, and judging is underway. Winners will be announced online on our web site November 11.
Posted on Tue, 06 Jun 2017 by Erik
Convention Video Now Available!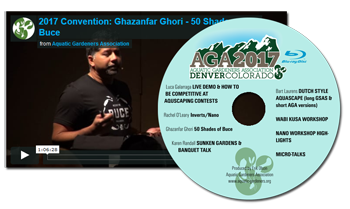 Missed our excellent convention in Denver back in April? Or maybe just want to take another look at a talk in more detail? Video of the whole convention is now available!
Everyone has been bugging us to offer video online, so so new for 2017, we are offering unlimited online high-def streaming for only $20. If you prefer, you can add a traditional DVD set or Blu-Ray for a few bucks more.
Included are all five main speakers (Luca, Karen, Bart, Ghazanfar and Rachel), Luca's big demo (edited down to a very watchable one hour packed with nonstop tips on how to improve your own aquascaping), the Wabi-Kusa demo and workshop, highlights of the nano workshop, and seven micro-presentations.
We also included Bart Laurens' full two-hour presentation in Seattle, in addition to his truncated convention version. All in all, almost nine hours of stuff to watch!
Get your copy (or access) now at the AGA media store.