The Aquatic Gardeners Association, Inc. is an international nonprofit organization of aquatic plant enthusiasts, which appeals to both beginners and experienced hobbyists alike. The AGA publishes a (paper) quarterly journal called The Aquatic Gardener (or TAG), the only English language journal devoted to aquarium plants and planted aquaria. AGA members receive a FREE subscription to TAG and all special publications. Members also can purchase back issues, DVDs, and t-shirts. We also hold a bi-annual convention and an online aquascaping contest.
Latest News
Posted on Mon, 01 Jan 2018 (updated Sat, 20 Jan) by Cheryl
The Aquatic Gardener 30-4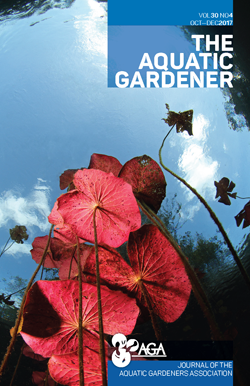 The Aquatic Gardener Vol. 30 No. 4 has been published! This issue includes:
~ From the President by Cheryl Rogers
~ Scientifically Speaking by Cavan Allen
~ Great Aquashops Around the World by Luca Galarraga
~ 2017 IAPLC Top Ten
~ Cryptocoryne crispatula var. tonkinensis and var. kubotae by Niels Jacobsen et. al.
~ Cryptocoryne bullosa by Andrew Huang
~ Meet the AGA—Greg St. John
~ Collecting Native Aquatic Plants In Your Own Backyard by Walter K. Crews

ON THE COVER: "Carwash" by Lee Newman. Aktun Ha Cenote, Quintana Roo (near Tulum), Mexico
Membership in the Aquatic Gardeners Association includes this magazine free four times per year. To obtain the journal, please visit our membership page.
Posted on Sat, 11 Nov 2017 by Erik
AGA Aquascaping Contest Results Available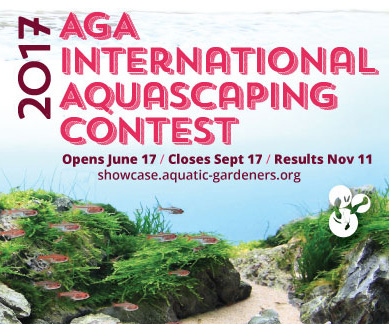 The 2017 AGA Aquascaping Contest results are now available for viewing. Record number of entries, over 600 this year! We've also done a little bit of redesign on the contest website so it's not quite as painful to view on phones.