The Aquatic Gardeners Association, Inc. is an international nonprofit organization of aquatic plant enthusiasts, which appeals to both beginners and experienced hobbyists alike. The AGA publishes a (paper) quarterly journal called The Aquatic Gardener (or TAG), the only English language journal devoted to aquarium plants and planted aquaria. AGA members receive a FREE subscription to TAG and all special publications. Members also can purchase back issues, DVDs, and t-shirts. We also hold a bi-annual convention and an online aquascaping contest.
Latest News
Posted on Thu, 25 Jun 2020 by Bailin
2020 AGA International Aquascaping Contest
Hello Aquascapers,

It is hard to believe that the AGA contest is celebrating its 20th anniversary this year and that we have grown so much since our humble beginnings in 2000 as the first online aquascaping contest so many, many years ago. We started the contest with fewer than 100 aquascapes submitted in 6 categories for and now have more than 600 aquascapes submitted in 10 different categories! Throughout the history of our contest, there have been many additions and changes that make the AGA contest what it is today. However, we are constantly striving to improve and grow our contest and reach more aquascapers worldwide. That is definitely the case this year and for the future as big changes are coming!

With the recent issues resulting from the COVID-19 pandemic, the people who run the contest discussed how best to accommodate hobbyists having a hard time building and prepping their aquascapes due to quarantines, social distancing, or other factors beyond their control. To make the contest more accessible for everyone, we have decided to delay the opening of the AGA contest for 2020 instead of canceling the contest. After considerable discussion, we decided on the following dates:

Friday, August 15th 2020 – Contest opens for submissions

Sunday, October 18th 2020 – Contest closes

January 2021 – Results are announced

The additional time should allow aquascapers the needed time to complete and refine their entries, especially as the impact of the virus subsides and our participants are able to obtain materials for the contest. We hope that aquascapers will take the added time to create new and novel entries that can be seen for the first time when the results are announced in 2021. Imagine starting the aquascaping year with the excitement of having a new aquascape revealed to the public! As the coordinator of the contest, I am excited to oversee these changes and hope our participants will see the benefits as well.

As we draw closer to the opening date, updated information including the rules, guidelines, entry forms and other important information about the contest will be provided on the website: www.aquatic-gardeners.org.

Good luck and happy aquascaping! I am excited for the future of the contest and the changes that are coming!

Bailin Shaw
Aquascaping Contest Chairperson
Posted on Sat, 18 Apr 2020 (updated Mon, 11 May) by Cheryl
The Aquatic Gardener 33-1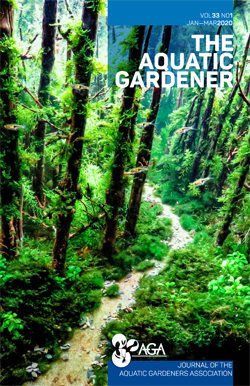 The Aquatic Gardener Vol. 33 No. 1 has been published! This issue includes:
~ From the President by Cheryl Rogers
~ Tips and Tricks for Dutch Style Aquascaping: Everything Else by Vin Kutty
~ 2019 AGA International Aquascaping Contest Results
~ Rhynchospora albescens--An Unusual Aquatic Species by Christel Kasselmann, Dmitry Sokoloff and Galina Degtjareva
~ An Aquascape The Appears Relatively Unchanged After Trimming by Aqua Design Amano
~ A Planted Tank for Beginners by Curtis Warstler
ON THE COVER: The 2019 AGA International Aquascaping Contest 1st place entry (28-60L) and Larry Lampert Most Innovative Award Winner by Ziao Zuhong, Taiwan (R.O.C.)
Membership in the Aquatic Gardeners Association includes this magazine free four times per year. To obtain the journal, please visit our membership page.
Posted on Sun, 22 Mar 2020 by Cheryl
COVID-19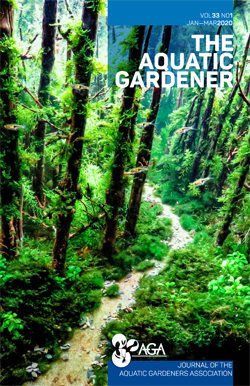 COVID-19 Update: As the AGA is mostly online anyway, we are conducting "business as usual", with one major exception: we are delaying shipments of purchased items (The Aquatic Gardener single issues, combos, and donations;tshirts; DVDs) so that our volunteers do not have to go to the post office and risk themselves or their community. You can still join or renew, and you'll get your items eventually, when the crisis is over. Thanks for understanding, and stay well and safe. Meanwhile, here's a sneak preview of the cover of TAG 33-1, currently in production.